How Much Does a Photo Booth Rental Cost in 2020?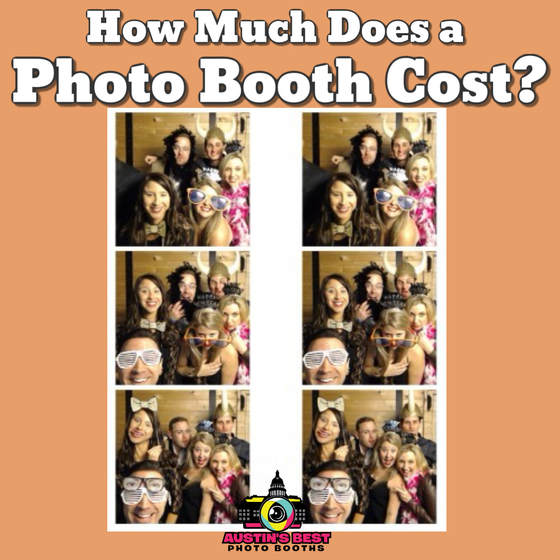 Photo Booth Rental Cost – Austin's Best DJs & Photo Booths
Photo Booth Rental Cost: How much does a photo booth rental cost? If you're planning a wedding, quinceanera, party, or event in the Austin, San Antonio, or central Texas area, or anywhere, you know entertainment is a huge factor in determining the success of your event.
There are literally hundreds of photo booth rental companies to choose from, and your budget is definitely an important factor in determining which company you'll choose. Should you book the cheapest photo booth rental or the most expensive that you can afford? The choice is yours, but let's discuss the entertainment and photo booth rental cost more. 
First, you know music plays a large role in most events, and of course, a great DJ or band should know what music to play, to keep your guests dancing, throughout the event. We all know that great music is essential for a great party, however, not everyone dances. More and more, people want to step up their entertainment and add more entertainment options for their guests. By the way, if you're looking for an Austin/San Antonio wedding or event DJ, we know several. 🙂 
Entertainment Options
So what do you do for your guests who don't care much for dancing? Luckily, there are numerous other entertainment options! Many entertainment companies offer numerous popular entertainment options; we offer karaoke, photo booth, lawn games, giant games, giant marquee letter rentals, etc.
Check out our wedding DJ and photo booth packages page, or our quinceanera/Sweet 15/16 DJs page, to view all our optional upgrades. We don't list the exact photo booth rental cost on these pages, but we do list a price range. Even if you're not our client, these pages will give you a good idea of the numerous entertainment options that companies may offer.
The most popular entertainment option for weddings and events, besides a DJ, is a San Antonio/Austin photo booth rental (also sometimes spelled as photobooth). Well over 70% of our bookings are for both a DJ and photo booth. Some call it a "picture booth," and others may call it a "selfie booth."
Whatever you call it, a photo booth is a great, fun entertainment option! Your guests are sure to have hours of fun, taking selfies with a photo booth!
Actual Photo Booth Rental Prices/Cost
Average Photo Booth Rental Cost – Austin's Best DJs & Photo Booths
If you decide to add a photo booth to your event, you definitely need to know what your photo booth rental cost will be. Feel free to check out Wedding Wire's Photo Booth Cost Guide for more info, but be aware, they take the average of all the vendors, nationwide. Our analysis is only for the Austin and San Antonio area, which is more relevant.
Every photo booth company offers different options, for different prices. You'll find some really expensive photo booth rates, and some really cheap photo booth deals on sites like Craigslist or Groupon, but be cautious! We've booked plenty of DJ and photo booth gigs at the last minute because that client booked someone else, who simply took their money. We love the business but hate to see this happen to our clients. 🙁
It's very hard to believe that people do this, but it happens more often than you think. We're not knocking either of these sites, as they are simply platforms for vendors to advertise and acquire the business. We are knocking the unprofessional vendors who do this to clients, month after month! 🙁
Typical Photo Booth Rentals Cost
So let's get back to the cost question. The photo booth rental cost in the Austin and central Texas area (and most other markets in the US) ranges from as low as $250 to as much as $2,500, for a 3 – 4-hour booking. The best way to compare is to find out what's included with each company. We are very experienced and offer the exact same photo booths as the companies who only provide photo booths. 
The biggest difference between the $250 photo booth and the $2,500 photo booth is usually what's included, as well as how well known the company is. The newer companies often start off with lower prices, simply to "get their name out there" and get as many bookings as possible. As you can see, the photo booth rental cost can really vary, even in one city!
How Much do Wedding Photo Booths Cost?
When it comes to answering how much wedding photo booths cost, this photo booth rental cost question is much easier to answer than the "how much do wedding DJs cost?" Why? Simply because DJ and photo booth events are far different and have very different equipment and needs.
We can't speak for every company, but we will tell you about how our company does things and give you an idea of what other companies do, as well. Simply put, yes, some companies may charge more for weddings, than other events. The bottom line for us: NO, we don't charge more for weddings versus other events! So let's answer the wedding photo booths cost question, now.
Venue Location

The first thing we'll need to know to determine your photo booth cost is the location. Where will your event be held? At a private residence, business, or venue? Where is your venue located? Indoors? Outdoors?

Most DJ and photo booth rental companies choose a particular service area that they will serve, primarily. We primarily serve the greater Austin area; we do not charge travel fees for events within about 30 miles from downtown Austin, TX.

If the venue or event is further than 30 miles from Austin, TX 78701, a travel fee may apply. The fee will be determined upon the distance we'll need to travel. So if you're having an event in Austin, but are contacting San Antonio DJs or Photo Booths, expect to pay a travel fee. Also, consider parking fees for your venue.

Will the photo booth provider have to pay a $40 parking fee (yes, this happens in Austin)? If so, expect to possibly cover that parking fee. Will the photo booth staff have to lug equipment upstairs because the venue was "grandfathered in" and did not have to provide handicap accessible accommodations? If so, this may be a factor that will affect the photo booth rental cost/price, too!
Day and Time of Your Event

What day or time is your wedding or event happening? Is it a weekday or a weekend? Daytime or night? The day and time can determine the rate you'll be charged. If it's a weekday, "off day," we may be open to offering a discounted rate. Simply ask your company and you may be surprised! You may be able to save some money on your wedding photo booth rental cost! 🙂 

Season

Believe it or not, the season and month of the event can also affect pricing. In the Austin and central Texas area, our busy season is fall and spring. Early summer can also be busy, but mid to late summer isn't as busy (think July and August).
So expect to possibly pay higher rates during the busy season, on a weekend day. The photo booth rental cost will be the highest on a weekend, during peak season. For us, we don't really change our pricing, too much. That being said, however, we are still willing to offer discounted rates for off-peak days and times. 

Type of Event

The next question you may be asked is "what type of event are you having?" You may wonder why this matters. I have read that many clients think that vendors "upcharge" for weddings. The truth is, some may, but it depends on many factors. For us, we don't charge different rates for a wedding, versus a party, or quinceanera.

We bring the same great photo booth to every event, and provide the same, great, smiling photo booth attendant at every event, too! 🙂 We may charge more if you need us to set up earlier than two hours before the start time, but otherwise, not much else will affect our photo booth rental cost. 

We do also offer discounted rates for schools and non-profits! 

On-site Printing

What's a photo booth, without on-site prints? Well, it's a social media booth! 🙂 We offer a social media-only photo booth, which allows your guests to upload their pictures to their social media, or send it to their phone number.

People LOVE this! If you only need this, our wedding photo booth cost will be cheaper, since we won't need to provide on-site printing. If you do need on-site printing, we will happily provide this at our standard photo booth rate. You can still easily add social media posting to your package, along with printouts! 

Photo Booth Backdrop Choices

Some companies will offer a standard black or white backdrop with their regular rates. If you want to change your backdrop style or color, this will certainly increase your photo booth rental cost. Many companies will upcharge for this. We do not do this, but many of our competitors do.

Why does it change the photo booth rental cost? We're not sure since it's the same amount of work to hang a black backdrop, as it is to hang a gold one. We think it's because they likely know that most people will want to match their decor or theme color, especially for a wedding!

Open-Air or Enclosed Photo Booth

Some companies will charge different rates for different photo booths. Some companies only offer one type of photo booth or the other. We offer both and charge the same rate for both.

We do recommend open air for larger events, so more people can fit into the pictures and it's always more fun for guests to try to squeeze as many people as possible into a photo! 🙂 

Type of Equipment Used

What type of equipment is your photo booth provider using? Is their photo booth service all that they offer, or do they offer numerous other services? It doesn't mean that if the company offers other services, that they won't do a good job.

We actually offer a few types of services but strive to do our best at every service we provide. So if you have doubts about the provider, ask about the type of photo booth they'll bring, and definitely ask about the type of printer they use.

If they don't use a dye-sub printer, it's best not to use that company. We've actually seen some "photo booth" companies bring a regular, desktop computer, hook up a webcam, and then use a regular printer for the printouts. All this was set up on a table.

Sure, they may have gotten the job done, but the quality of the printouts was certainly not the same and in the end, that's what matters most! You want your guests' pictures to last long after the event! Whatever that company's photo booth rental cost is, it is far too much, if you get low-quality printouts, in our opinion! 
These are just some of the many factors that go into how much wedding photo booths cost. Other factors that may influence photo booth pricing are your market area (a wedding in Manhattan will be far more expensive than a wedding in Lubbock, Texas).
Get a Contract!
One last word of advice: ALWAYS get a contract and read their reviews! If they don't provide you with a contract, don't do business with them! If they don't have any recent reviews or any reviews, be careful! Regardless of how much the photo booth rental cost is, it won't matter if they don't show up! 
Many companies will get bad reviews, and simply take down their business info from all sites, create a new business name, and start all over. They know the importance of reviews, and the impact of bad, recent reviews. so if they have no recent reputation, ask them why?
As terrible as this sounds, it happens A LOT in our industry. 🙁 We've gotten many calls from people who's DJ or photo booth provider took their deposit (often 50% of the fees) and vanished! This is TERRIBLE!
We hate these calls and are glad to book with them because we know, without a doubt, we'll NEVER, I repeat, NEVER, do this! We will always be there at any event we book, ready to help everyone have an amazing time!
Whether you book a DJ, photo booth rental, lighting, games, or any service, this is what we will do. We run our business with integrity because that's just who we are. We treat our clients the way we wanted to be treated when we were getting married, looking for our own wedding vendors. 
Reputation & Price
The company's reputation and length of time in business (new companies, just starting out will always charge less, just to get the business), is often the #1 factor affecting the photo booth rental cost. The more established companies (the companies you'll find on page 1 of Google), have been in business longer or are often part of a national franchise. (Thich means they have the advantage of multiple locations, nationwide and much more website traffic, due to this).
These well-established companies are going to be the ones that likely charge you closer to the $1500 -$2500 price. Not to say that they don't offer a great product, because they certainly do, but definitely do your homework and compare photo booth companies. Then, simply narrow down your list to your top 3-5 companies.
Once you have your top 3 list, now it's time to ask the right questions. If you don't know what questions to ask, before renting your photo booth, no problem, we're here to help! Here is our list of the best questions to ask before renting your photo booth. 
​
Top 10 Questions to Ask Before Renting a Photo Booth
The following questions are great questions to ask your photo booth company, to determine if their photo booth rental cost is worth it:
What's included with the photo booth rental cost (the basic package)? Are set-up and break-down included in the price? 

What type of booth(s) do you offer? The typical walk-in, enclosed booths, or the open-air backdrop type? 

Which booth is better for my event? 

If you have the backdrop/open-air, what color backdrops are available? Are backdrop colors free, or do you charge for specific colors? 

What type of camera do you use for the photo booth? How many megapixels?

What type of printer do you use? *very important (Be sure it's a dye-sub printer because these are the best printers for photo booths).

Are printouts included? If not, how much does it cost for printouts?

How many copies of the pictures do guests receive?

Do you give us a copy of the photo booth pictures? How? (flash drive? online using Dropbox, etc)

Do you offer other options with the rental, such as black and white photos, custom props, a photo album, etc.? 
As you can see, there are far more questions to ask besides the "photo booth rental cost" question. All of the above questions are great questions to ask, before booking your photo booth.
If you'd like to know more about booking a photo booth for your wedding, quinceanera, party, or event, in the Austin or central Texas area, visit our photo booth rentals page. As always, if you have any additional questions about how much a photo booth rental costs, please feel free to message us, even if you're not our client! 🙂
​- Austin's Best DJs & Photo Booths