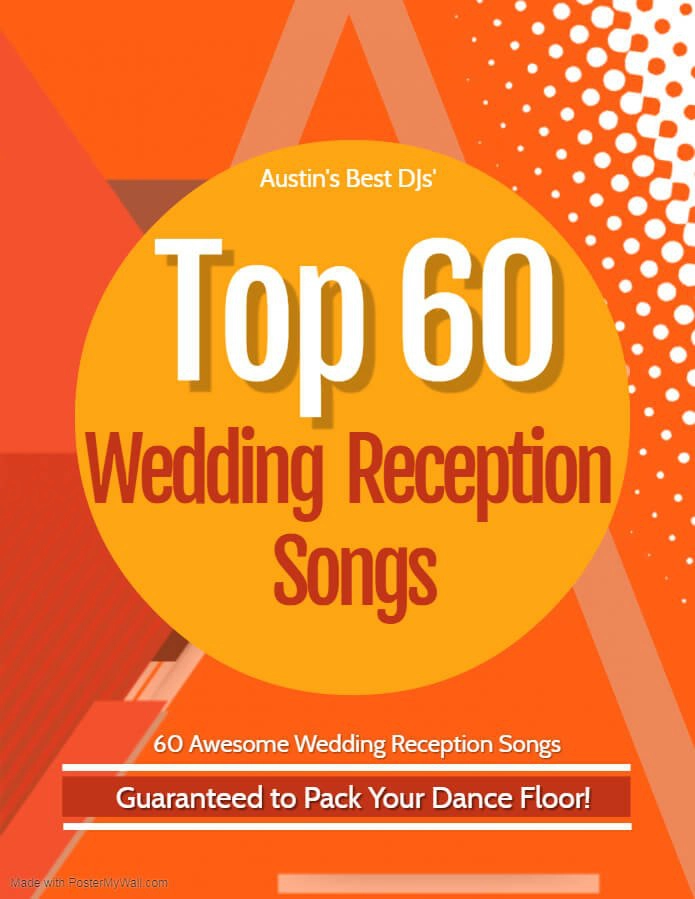 Popular Wedding Reception Songs: If you're planning your wedding day, congratulations! Now that you're working on your wedding reception music, that means that you've planned for a little while, already. Clients usually plan their wedding ceremony and reception music in the final month or two before the wedding day! So congrats, you made it this far! 🙂 So now, you may be thinking, I'm not a DJ, so I have no idea what to play! Well, luckily, we are, and we're here to help! Here are a few tips to plan a fun wedding reception.
Tips for Choosing Great Wedding Songs
Remember that your friends and family have a variety of musical tastes. So try to play songs from different genres, if possible.
Keep your vision in mind. What do you envision for your wedding reception? Do you want a packed dance floor, all night? Perhaps you just want a laid-back vibe, where dancing isn't the focus. Either way, your music will help you achieve this!
Hire a great DJ! Even with careful planning, a great DJ is an absolute must. You may have created a great playlist, but for some reason, no one is dancing. This is where a great DJ can easily take over and change the mood, quickly. Inexperienced DJs will simply stick to your list and not know what else to play.

A great DJ will check in with you and find out what you want to do. If you decide to let the DJ play other songs off your list to get the dancing started, he/she should be able to do this, easily! So invest in your entertainment!
These are the top 3 tips to remember when planning your wedding reception/dance. There are numerous other tips, but we're discussing the dance part, in particular. Now that you've got the above info, you may be wondering where to start. What songs are best for everyone? Here is a great list to start with.
Keep in mind that this is based on weddings and events that we do in Austin, San Antonio, and the central Texas area. Some songs may be different, depending on what part of the country (or world) you're in. For the most part, though, these hits are played at many weddings in the US. Here's the list of the 60 most popular wedding reception songs.
ABDJs' Top 25 Popular Wedding Reception Songs
I Wanna Dance With Somebody – Whitney Houston
Uptown Funk – Bruno Mars
Cupid Shuffle – Cupid
Don't Stop Believin' – Journey
Sweet Caroline – Neil Diamond
Yeah – Usher
Shut Up and Dance – Walk the Moon
Wobble – VIC
September – Earth, Wind & Fire
Can't Stop the Feeling – Justin Timberlake
Friends in Low Places – Garth Brooks
Cha-Cha Slide – Mr. C The Slide Man
Dancing Queen – Abba (everyone loves to sing along to this one)
24K Magic – Bruno Mars
Hey Ya! – Outkast
I Gotta Feeling – Black Eyed Peas
Footloose – Kenny Logins (or Blake Shelton)
Livin on a Prayer – Bon Jovi
You Shook Me All Night Long – AC/DC
Wannabe – Spice Girls (this has become a popular bouquet toss song)
Tennessee Whiskey – Chris Stapleton
Everybody – Backstreet Boys
Marry You – Bruno Mars
Party in the USA – Miley Cyrus (this is a fun song to take you back to your school days)
Brown Eyed Girl – Van Morrison
More Awesome Reception Songs
Love Shack – B-52s
Mr. Brightside – The Killers
Pour Some Sugar On Me – Def Leppard (a good cake cutting song) 🙂
Speechless – Dan + Shay
Low – Flo Rida
Baby Got Back – Sir Mix a Lot
This is How We Do It – Montell Jordan (still a popular throwback song)
Shout – Isley Brothers
Thinking Out Loud – Ed Sheeran
Beautiful Crazy – Luke Coombs
Perfect – Ed Sheeran (a good first dance song)
Hot in Herre – Nelly
Ain't No Mountain – Marvin Gaye
Shake it Off – Taylor Swift
Bye, Bye, Bye – N'Sync
Old Town Road – Lil Nas X
Despacito – Luis Fonsi, Daddy Yankee, Justin Beiber
All of Me – John Legend
Twist and Shout – The Beatles
Sweet Home Alabama – Lynard Skynard
Come on Eileen – Dexy's Midnight Runners
Man, I Feel Like a Woman – Shania Twain
My Girl – Temptations
Sugar – Maroon 5 (also a great cake cutting song) 🙂
Happy – Pharrel
Get Low – Lil Jon
The Way You Look Tonight – Frank Sinatra (a good first or last dance song)
We Are Family – Sister Sledge
Africa – Toto
Bohemian Rhapsody – Queen
Can't Help Falling in Love – Elvis (we love the Kina Grannis version, too. Listen, here)
I Want it That Way – Backstreet Boys
Timber – Ke$ha, Pitbull
The Git Up – Blanco Brown
Party Rock Anthem – LMFAO
More Song Ideas
There you have it. These are the top 60 most popular wedding reception songs that are most often played at weddings in the central Texas area. These are all great songs that keep your guests dancing! There are so many other songs we play, too; however, these are the most popular ones that are requested. For more great wedding song ideas, read our  Top 2021/2022 Wedding Songs article! If you're looking for country song ideas, visit our 50 Awesome Country Wedding Songs article!
Austin's Best DJs & Photo Booths