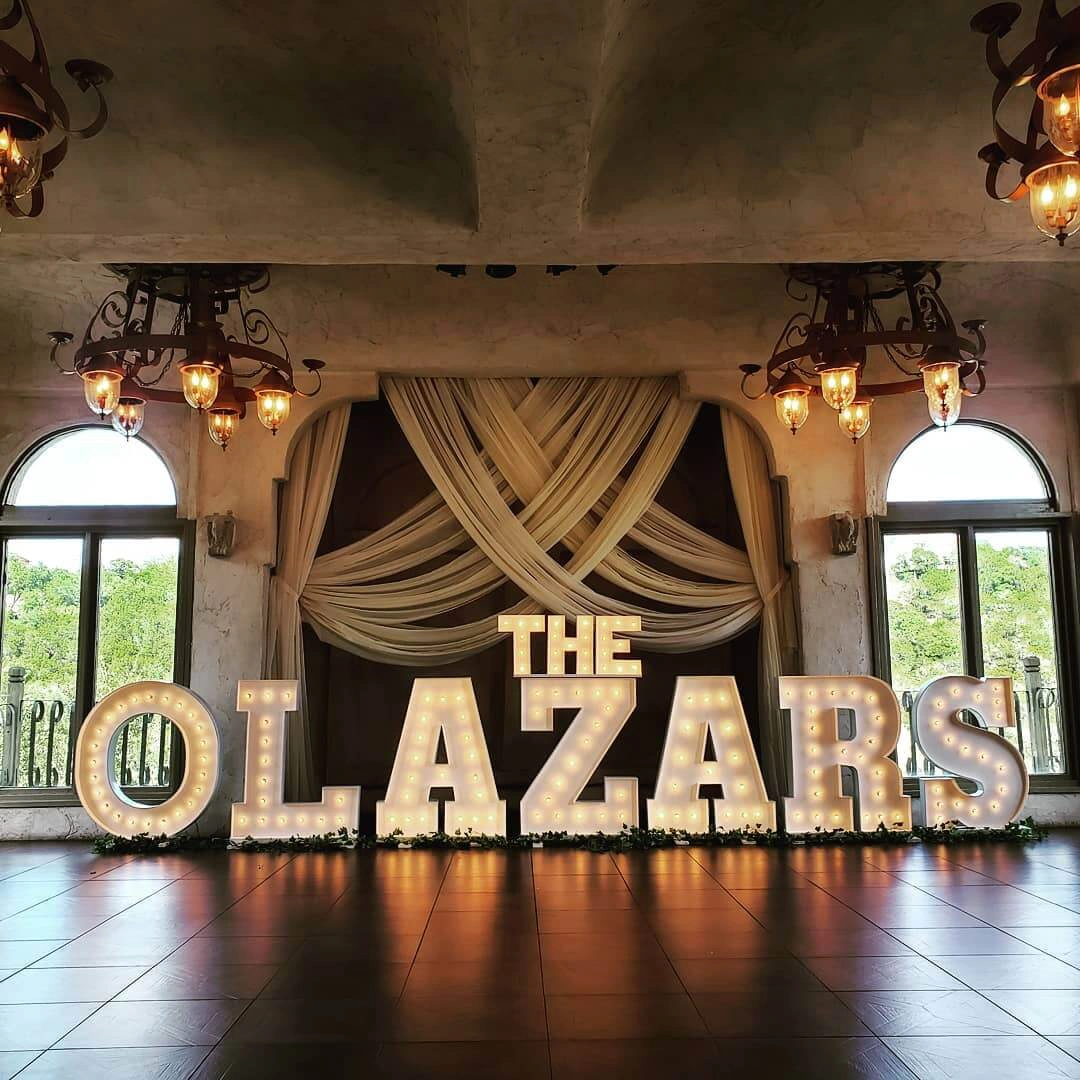 Rent lighted marquee letters for your Austin wedding/event, today!
Looking to rent lighted marquee letters for your Austin/central Texas area wedding, quinceanera, or event? You've found the right place! We've got these classic, elegant letters that are the perfect final touch for your event!
Why Rent Lighted Marquee Letters?
Wedding and event trends are always a hot topic! One new trend is to rent lighted marquee letters for weddings, quinceaneras, parties & events! What are these? Well, the picture above explains it all. 🙂 We recently began offering these letters and they're a huge hit! Everyone wants their event to be unique and personal. This is one way to do it. You can add your name, initials, company name, numbers for birthdays or quinceaneras, sweet 15/16s, etc. The possibilities are endless!

We also have the ability to change the light bulb colors, as well. You can choose: soft white, red, blue, amber, yellow, purple, green, etc. Though these letters may be a new trend, they also offer a classic, timeless look and feel, for your event.
Marquee letters always look great in the background of your pictures, and your guests will love them, too! We've done weddings with them and the guests were amazed and taking photos and selfies with the letters the entire evening! 🙂
​
Add a Custom Monogram For Your Wedding/Event
If you don't quite have the space to rent lighted marquee letters (they're about 4 ft tall and 3 ft wide), you can easily go digital! We can add a custom monogram for your event, and shine it on the floor, the wall, near the main table, and anywhere else! The custom monograms are a great way to add a unique look to your event! 
If you want a great alternative to our lighted marquee letters, you can order a custom monogram that will really stand out and draw attention! We can even create a custom video/animated monogram for your wedding, quinceanera, or event! These monograms always look great!
The video will have a variety of effects and it is a sure way to add flair to your event, to make it different and memorable! All the monograms, below, are video files that look great. If you want to see them in action, just ask us and we can send you the links! 
Whether you choose to rent lighted large marquee letters or to add a custom monogram, these options will look great at your event! No one wants their event to be exactly like any other event. These giant marquee letters and custom monograms are a great way to ensure that your event is different and unique!
Marquee Letters at Weddings/Events
Here are a few examples of the letters at recent events! 
We've provided our large letter rentals for numerous events in the last few weeks in the Austin & central Texas area! We provided our love letter rentals for a fun wedding at the Omni Barton Creek, at the end of June! The wedding was a lot of fun! The large letter rentals were the finishing touch that really set this wedding apart from the rest.
Additionally, we provided a DJ, a photo booth rental, lawn games, uplighting, and these love letters! This wedding was a lot of fun and definitely one to remember!
ATX Marquee Letter Rentals
Next, we provided our ATX large lighted marquee letters for the official ATX Birthday Bash, put on by the Downtown Austin Alliance. They had great live music, a DJ, a photo booth, face painting, and lots of great food and drink vendors, too! These ATX letters were a huge hit at the event! From the time we turned the lights on, until 15 minutes after the event end time, people were in front of these letters taking pictures!
Lots of people took selfies, they took pictures with friends and family, and many just took pictures of the ATX letters by themselves. They looked great with the Republic Square Park background! There were hundreds of people at the event (we stayed to hang out, too).
At any time during the night, there was a line of people by our ATX letters, waiting to take pictures. Even after the event ended, there was a line of people waiting to take pictures. We had to stop the photos by 10:30 pm (end time was 10 pm). We loved it! 🙂 Thanks, again, to the Downtown Austin Alliance for having us. We look forward to the next event!
Quinceanera Marquee Letter Rentals
Finally, for our most recent event, we provided a DJ, photo booth, uplighting, and a concert grade sound and lighting package for this fun quinceanera in New Braunfels, Texas. Rudy, the quinceanera's father, said: "my daughter LOVES your letters! Please tell us how to get these lighted marquee letters for our quince. We have to have these!"
We were happy to help Rudy and Jayda! The quince took place at the New Braunfels Civic Center, near downtown. Wow, the entire Civic Center looked great! We brought a huge sound system for the venue since they were expecting over 400 people.
We also provided our upgraded light show, as requested by our client. The large JAYDA letters looked great! Happy 15th birthday, again, Jayda! We were honored to celebrate this special day with Jayda and her friends and family!
Book Our Large Letter Rentals Today!
For more information, please visit our marquee letter rentals page. We literally have every letter in the alphabet and several numbers and symbols, too! If you want a custom name with our lighted marquee letters, just ask us about it and we can make it happen! We can create it as a 3D letter, or digitally, too.
Contact Jason or Diana, today, to rent our lighted marquee letters, or to discuss all of your custom event options. We'll create a custom event package, just for you. We can't wait to hear from you!

​- Austin's Best DJs & Photo Booths