Wedding Father-Daughter Songs
Having trouble choosing between all the father daughter songs? Maybe you're searching for the best wedding father-daughter dance songs? 
Whether you're looking for wedding or quinceanera father daughter songs, (also called daddy/daughter songs) mother/daughter songs, or any special song, we've got you covered!
Today, we're writing about the top daddy daughter songs. These songs can be used for weddings, as well as Quinceaneras. When planning your wedding, you should first think about your wedding key moments and the music you'll choose for them.
You have to select your wedding prelude songs (when guests are arriving), ceremony songs, cocktail hour genre, and the dinner genres. Then, you must select your key moment songs of the night, such as the first dance, cake-cutting, send-off, bouquet toss, garter toss, and parent dances.
The parent dances typically include the father/daughter dance, mother-son dance, mother-daughter, etc. We've also seen plenty of variations of parent dances, with step-parents, other relatives, and even best friends! 
Traditional vs. Non-Traditional Father Daughter Dance
When it comes to traditional father-daughter songs, we've seen numerous choices for the father-daughter dance. It's very hard to capture this special moment that sums up a lifetime of memories, with just one song. We encourage you to pick the song that best works for you and your dad.
Perhaps even think of a song that your dad really loves, or even sang to you, as a kid. If you can't decide on just one, feel free to make a mix of 2-3 songs. Your DJ should be able to do this for you and send it to you, so you can practice. 
If you have a step-parent or someone else who is just as close to you, you can always do two songs, or just practice with each parent knowing what time they come in, to dance with you. No need to follow "tradition," since it's YOUR special day to celebrate your love. So you certainly should do what you want.
That being said, if you need some guidance, here are our top 10 most popular father/daughter dance songs.  There are slow songs, as well as upbeat, fun father daughter dance songs, too! 
Top 10 Father-Daughter Dance Songs
The quinceanera is a very special moment in a young girl's life, as well as her family's lives. This milestone is a very big cultural celebration for many Latino families in the U.S. and around the world. One of the important moments at a quinceanera is the father-daughter dance. 
We've come up with a list of the most requested father daughter quinceanera songs for quinces in our area. We wrote this article a while back, and are updating it, now, (March 2020) to reflect the new changes.
Quince Trends & Changes
We've noticed that the traditions are changing. Today, we're seeing mother daughter dances, more and more, which is great! Mothers and fathers both play a very important role in their daughter's life, so why not share the spotlight moment? In some cases, we've seen only mother-daughter dances and the father & daughter dance is not done. This is rare, but it happens. We'll also give you a list of some great mother-daughter songs for quinces, below. 
We've also seen many quinces include other important family members into the dance, such as having a grandfather/grandaughter dance, grandmother/grandaughter dance, uncles, etc. We love it! Let's get to the list.
Some of these dad and daughter songs are the traditional songs you may have heard at many quinces, while others are more modern songs. If you want to hear the song, simply click on it and it'll play! 🙂
Top 15 Father/Daddy Daughter Quinceanera Songs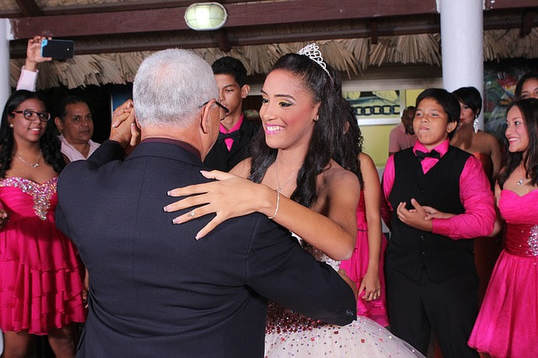 Below, are some of the most popular father daughter songs in Spanish and English!
Father Daughter Spanish Songs
"Tiempo de Vals" – Chayanne (#1 dad favorite since 1990)
"Tu Sangre en Mi Cuerpo" – Angela Aguilar ft. Pepe Aguilar
"Stand By Me" – Prince Royce (Spanish/English – daughter favorite)
"No Crezcas Mas" – Tercer Cielo
"La Ultima Muneca" – Los Baron De Apodaca

"Es Mi Nina Bonita" – Vicente Fernandez (Mariachi style)

"Tu Guardian" – Juanes

"El Reloj" – Luis Miguel
"Ese Que Me Dio La Vida" – Alejandro Sanz
"Besos de Mariposa" – Miguel Angel Guerrera
"Chiquilla Bonita" Los Bukis
Father Daughter English Songs (Quinces – dad & daughters favorite dance songs)
"My Little Girl" – Tim McGraw (This is also one of the best daddy & daughter dance songs for weddings).
"My Girl" – The Temptations
"Butterfly Kisses" – Bob Carlisle (one of the classic father daughter songs for weddings and quinces)

"My Baby You" – Marc Anthony
These songs, as well as the same wedding father/daughter wedding songs, above.
More Daddy Daughter Song Ideas
If you want to view the entire father/daughter quinceanera songs playlist, check out the Austin's Best DJs YouTube Channel. We have this list, and many other helpful quince, wedding, and event music playlists! 
For more great quince planning tips, check out our 2020 Quinceanera Trends & Tips article! These will be helpful whether you're a daddy or daughter! 
Top 5 Mother Daughter Quinceanera Songs
As we mentioned above, besides the father daughter dance, many quinceaneras also do a mother/daughter dance. A lot of the quinces do both father and mother/daughter songs. We couldn't write this list without including the top mother/daughter songs, too. If you don't know the song, just click on the title and listen to it!
Here are the top 5 mother/daughter songs, below.
More Parent Dance Song Ideas
We hope this list of quinceanera father daughter quinceanera songs has been helpful. As always, contact us if you need any additional ideas, tips, info, father/daddy & step-father/step-daddy daughter, or mother-son song ideas, and we'll be happy to help! Be sure to visit our online music library page for more great song ideas! 
In addition to father daughter songs, our blog covers tons of different tips for quinceaneras, weddings, parties, and more. We have numerous articles about great wedding songs & quince songs. If you're looking for great country songs, check out our article discussing Country songs about daughters, and many of the best father-daughter dance songs. 
Contact us
If you are a soon-to-be bride (and daughter), soon-to-be quinceanera (and daughter), a mom, or a dad/daddy, what are your thoughts? Feel free to email us or leave us a comment with any great daddy daughter songs, or music ideas that we may have left off. We may just add your song! 🙂 
Daughters: we can't wait to hear from you. Happy planning!
– Jason & Diana (ABDJs' founders/owners)