Wedding/event Uplighting Tips
Wedding/Event uplighting – When it comes to weddings, quinceaneras, or any event, really, one thing is for sure: everyone ​wants their event to look and be AMAZING! Everyone also wants their event to be different from all of the other weddings and/or events that they have been to in the past. This is certainly understandable, and believe it or not, easy to do with your decor, lighting, and uplighting!
Uplighting is very popular and makes wedding and event venues look great! So there is a ton of information and misinformation, unfortunately, about wedding/event uplighting. There are numerous common questions people have about it.
We're going to answer those questions to help you, even if you're not our client. Though we can't understand why you wouldn't be! 🙂 So let's discuss our helpful wedding/event uplighting tips. We'll discuss what uplighting is, how it works, and why it's perfect for your wedding, quinceanera, or event. For more info about lighting, visit our wedding lighting tips post! 
​What is Wedding/Event Uplighting?
Uplighting is a light that is placed on the floor, around your venue space, that shines upwards. An example of uplighting is halogen lights, which are the older style, "can lights." Halogen lights look great but can consume a lot of power, sometimes causing power issues at venues since too many of the halogen lights can "flip" (turn-off) the breaker.
Additionally, these lights can get hot to the touch. 🙁 The halogen lights can change colors, easily, by placing a gel filter on the light, in whatever color you choose. The upside to these lights is that they are very bright! 
Now, most companies, including us, use LED wedding/event uplighting. These consume less power and they can be wired (plugged in) or wireless (battery-powered). We have both but have many more wireless uplights than wired.
The colors can easily be changed by using the menu on the light, itself, or with a remote. For more color options, companies can use a light controller (called a DMX controller), which allows users to mix/blend, and set the uplighting and dance floor lighting colors, easily.
If you want to consider buying your own wedding/event uplighting, here's some reasonably priced wedding uplighting on Amazon, these are wired (must be plugged in). Keep in mind, you'll need to place these near power outlets, and not all uplights are equal!
Our Wedding/Event Lighting
We offer the brightest LED uplights in the business, at 150 watts. In our case, we do carry high-end lighting, because we want our clients and their guests to be wowed when they walk into their venue for the first time. We're all about making an amazing first impression.
Most of our competitors offer lighting that is 25-45 watts, max (even the companies that specialize in wedding/event uplighting). Keep in mind, the lighting companies will often have very high-end lights and charge a delivery fee, setup/breakdown fee, etc.
The best part about uplights is that they can really bring the space and theme colors together. If candles and string lights aren't enough, you should certainly consider wedding/event uplighting. It's a quick, easy way to make your space look amazing! For the above-pictured event, they actually did not even add uplighting. We brought our own, just in case, and the red uplighting made the stage area pop, and look much better!
​
Where Do You Place Uplighting?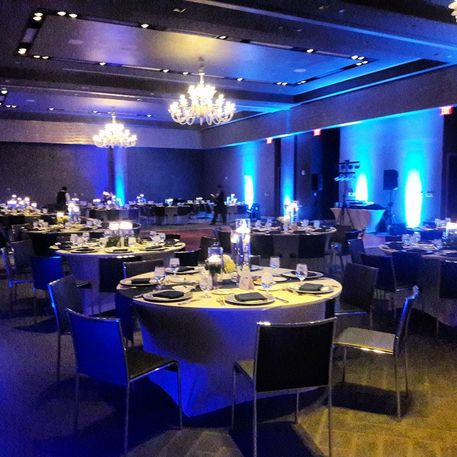 Wedding/event uplighting placement is totally up to you and your uplighting provider, but as a general rule of thumb, you should place the uplights around the main areas that are the focal points of the room. We usually place them in places such as: behind the cake table, behind the sign-in table, behind or near the head table, along the walls (evenly spaced), along the columns, and generally in areas that simply need more lighting.
The above-pictured wedding was at the W Hotel, in Austin, and they wanted all blue uplights. We like to place the lights in pairs and evenly space them throughout the venue, just for continuity and perhaps we're a little OCD. 🙂
How Much Uplighting Do I Really Need?
Another question that we get asked is about the number of uplights needed. This is a tricky question that is honestly up to you, as well as your budget, too. Don't let companies talk you into getting 40 lights, simply because "it will look great." Sure, it will definitely light up the room, but 40 lights would be far too much for most venues. 
The number of lights you should get depends on a few factors. First, the size of your venue. The larger the venue, the more lighting you'll want to use. Keep in mind that many venues already have great lighting.
You don't need a ton of wedding/event uplighting if your venue already has a lot of great lighting. Be sure to talk with your venue coordinator about this. Ask about other clients and if they used uplighting, where it was placed, etc. 
Most people will get the uplighting in sets of 4, 8, 12, 16, and 20. We've rarely been asked for more than 20. Most venues will have lights on a dimmer, but still have some lighting around the room, especially for safety reasons.
The average clients will request 8-12 uplights for their event from us. Again, the decision on uplighting for your wedding is up to you, ultimately.
What is the Best Color Uplighting for a Wedding?
The next most frequently asked question is about the color of wedding/event uplighting. Many clients ask what colors should they choose, or which colors are most popular, etc. The color of uplighting is up to you and what your vision is, but we suggest getting colors that will match with your decor or theme.
You don't have to do this, but the lighting will really bring the room together when you do. If you can't decide, the Amber color is often the color most clients choose. It has a candlelit look, which always looks great. 
Wired vs Wireless Uplighting
Most companies offer "wired" (lighting that needs to be plugged in) and wireless (battery-powered) uplights. Both lights usually have the same watts (or brightness) and look great. The key difference would be power needs.
Some venues have plenty of power outlets, while others may not. Battery-powered uplights also are perfect for outdoor areas, such as trees and other outdoor places that you'd like to accent. Just be sure to ask your wedding/event uplighting company if the lights are waterproof, just in case. ​
String lighting also looks great for weddings/events!
The last question is one that we hear a lot from brides and clients, "is uplighting necessary for my wedding?" Well, in a short answer, no, it's not. Though it looks great with your theme and decor, it's not necessary. If it's in your budget, it certainly can transform your wedding venue space. However, if your vision is simply to have string lighting in your venue space, we've done many weddings with only string lighting, which can also look great! 
Many venues have their own wall lighting that makes the venue look great when dimmed, too. If you decide not to get any lighting, that's totally okay. However, we do recommend that if you don't have any lighting, at least ask your DJ for dance floor lighting. This makes the dance floor more inviting and it feels more like a party, with dance floor lighting. 
How Much Does Wedding/Event Uplighting Cost?
The cost to add uplighting for your wedding can really vary, depending on who you're renting it from. Your DJ may have uplights, sometimes venues offer the lighting, and other times, clients will rent them from lighting companies. The cost often depends on the company that is providing the lighting and its market. 
The difference is the colors, the brightness, the color mixing ability, transition ability of the lights, and more. The cheaper lighting will not be as bright and may be limited in color options. The more expensive lights will often have brighter lights and better color mixing ability.
Uplighting Cost from DJ Companies
DJ companies will often buy their lighting from the DJ supply store, or online. The lights from DJ companies can really vary. The typical uplighting rental cost from DJ companies ranges from $20 – $60 per light.
Event Rentals & Online Rental Company Uplighting Rental Cost
There are also companies that rent various music and equipment that may also offer uplighting, for $10 – $20 per light. Some online rental companies that offer lighting for about $25 – $45 per light and free shipping. The downside for this is that you have to set the lighting up yourself. 
Specialty Lighting Company Uplighting Cost
The wedding/event uplighting companies that provide only lighting will usually charge $60 or more, per light, along with the delivery and setup fees. Know that these companies will be the highest priced of all the choices, but they also do offer great uplighting for your wedding!
If you're unsure about where to rent uplighting for your wedding, inquire with a few companies and simply ask them why their lighting is better than their competitors. Ask to see pictures of events with their lighting in use. Ask how bright they are.
Bring the Theme Together, With Uplighting
Bring your wedding/event theme together, with uplighting
One great thing about uplighting is that it can really change the entire vibe of your venue space. Uplighting can be set to match nearly any theme or decor colors. At this sweet 16, above, the colors were pink, so pink uplighting was placed all over the area. It looked great!
You can also choose more than one color, too. Two-three colors would be the most we would recommend for wedding/event uplighting. ​Any more than that, and it may look odd to have so many colors, everywhere. Although, if that's your goal, we can certainly do this. 🙂
Overall
Overall, the choice to add wedding/event uplighting is completely yours to make. Only you know what your wedding day vision is. Your wedding vendors are simply there to help you achieve that vision. If you're booking with us, be sure to check out our wedding DJ & photo booth packages page, to see all of our optional upgrades that you can add on, to make your wedding day unique!  
​- Austin's Best DJs & Photo Booths
For more information about uplighting, read our "Austin uplighting rental" article.