Wedding DJ Austin: Austin's Best DJs

The Best Wedding DJs in Austin, TX & Central Texas
Your wedding, party, or event deserves the best DJ! Experience Austin's Best DJs' award-winning, professional DJ talent at your party or event!
The search for your perfect Austin, TX area wedding DJs & event entertainment ends, here. Expect more, expect better – you deserve it!
Award-Winning Austin, TX DJ & Entertainment Company
We are a BIPOC-owned, LGBTQ+ friendly, award-winning collective of the top Austin wedding DJs in Austin, TX! Below, are some events our DJs have done & people we've worked with.
Our professional Austin, TX DJs/MC (master of ceremonies) have the experience, professionalism, skills, and personality that is unmatched in our industry! Our combined years of experience have led to our esteemed reputation in the Austin, TX market. We're raising the bar on what a wedding DJ or party DJ should be. We have hundreds of happy clients & counting!
Hiring the right event entertainment services is an investment in your overall wedding day experience. We will create a custom DJ & entertainment package based on your needs, preferences, and overall vision. We're a boutique Austin, TX entertainment/DJ company that limits the number of events we accept, in order to provide an amazing, fun experience for our client/clients, every time.
Since 2012, our professional Austin, TX DJs have specialized in providing an exceptional event DJ services for hundreds of weddings, parties/events in Austin, TX, and beyond! We carefully selected a diverse collective of DJs. Every Disc Jockey (DJ) on our team has 10+ years of Disc Jockey (DJ) experience. We have a passion for music and a reputation for creating a truly unforgettable experience!
The Bottom Line: We will help you & your guests have an amazing time at your event. Our DJs will work with your wedding vendors & wedding planner to deliver a fun, memorable experience for everyone!
What Couples Say About Us - Reviews
Instead of us telling you why we're the #1 Austin, TX DJs, we'd rather let our clients tell you about their great experience with our wedding DJ, the music, and photo booths at their Austin, TX weddings & events. Don't just take our word for it. Below, are just some of the hundreds of reviews of our business/services on The Knot, Wedding Wire, etc., from actual clients. 
Awesome DJ/Photobooth!!!!!! 
"Thank you Jason and Diana! Alyssa's Quinceanera party was a huge success. We all had an extremely awesome time. Music, photo booth, etc. was awesome! Your professional services and support was very much appreciated!! Thank you!!!!!"
Juanita L.  (Austin, TX)
One of the Best in Austin!
"Jason and Diana are awesome! I've used them countless times, and most importantly for my wedding. From ceremony to reception, they were on point. Love these guys and would highly recommend!"
Logan S. (Round Rock, TX)
Our #1 priority is your happiness! This means we stand by our Austin, TX DJ & wedding DJ services, 100%, no matter what. We'll get it right, or our customer service staff will make it right for our client/clients, every time.
If you have a problem, we'll solve it, refund it, whatever it takes.
NO OTHER Austin, TX wedding DJs offer a satisfaction guarantee.
Simply the best DJ Austin has to offer. We're here for you. Happiness guaranteed!
Book the Best Wedding DJ, in 3 Easy Steps
Call/text, or email us, and we'll discuss your music, DJ, & entertainment needs & overall vision.
We'll create the perfect, custom DJ package to fit your needs and pack your dance floor!
You pay a small deposit to book the best wedding DJ – Austin, TX DJ! We'll work, together, to bring your vision to life!
We Create Fun, Memorable Experiences
Your Vision + Our Music = Great Memories
Our award-winning professional wedding DJs will seamlessly weave your unique song requests, music choices, and personality into your special day. We'll play:
The songs that were playing when you met your significant other
The best music from your high school & college days
All of your favorite music to pack your dance floor!
Our Austin, TX DJ will play the best variety of music, such as:
Pop/Top 40
Hip Hop
'50s – 2010's
Jazz & Big Band
Spanish & Latin genres: Tejano, Norteno, Cumbia, Salsa, Merengue, Huapango, Zapateado, & more.
We'll work, together, and help you create memories that will last a lifetime!
Don't settle for less. Hire an experienced, professional wedding DJ for one of the most important days of your life! Email, call/text, now!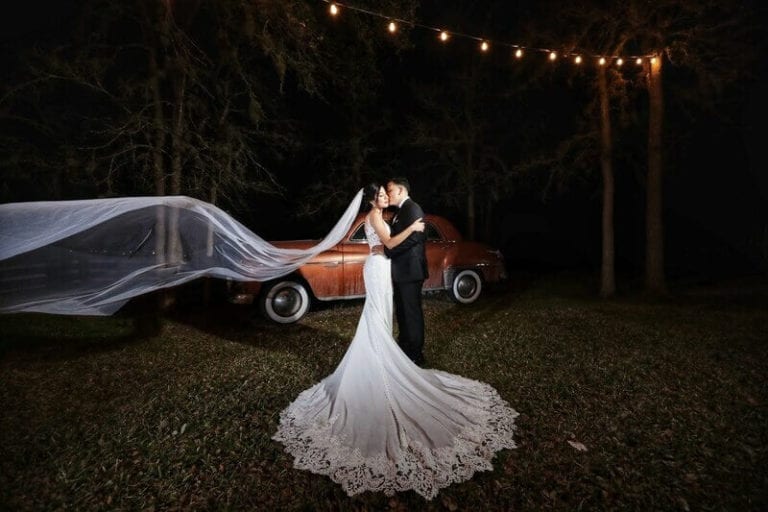 How Much Does an Austin Wedding DJ Cost?
The wedding DJ cost/price in Austin (and the US) varies. In general, Austin DJ prices can range from as little as $200, up to $5,000! Expect to pay at least $1400 or more, for an experienced, professional mobile DJ service in the Austin, TX area.
Learn more about the average Austin wedding DJ cost. Visit our DJ packages page (for weddings/events) to learn about our price and options. Call/text, or email our 5-star customer service business, today!
Whether you need an Austin DJ, or a DJ in San Antonio, San Marcos, Cedar Park, Georgetown, Fredericksburg, Houston, Dallas, El Paso, or even Chicago or Los Angeles, we'd love to be your wedding DJs! Yes, our DJs will travel to any city in the US or the world!