Photo Booth Rental Austin, TX: Book the Best!
Book the #1 Photo Booth Rental in Austin
Searching for the best photo booth rental in Austin at a competitive price? You've found us! You may be overwhelmed, stressed, and have questions, such as:
Are the photos professional, high quality photos?
Will someone be there if my event guests need help?
How many hours do I actually need for my wedding/event?
What's the difference between all of the companies?
First, not all photo booth companies in Austin, Texas are the same. Even just the concept of a photo booth, can vary. Some companies' idea of a photo booth is nothing like you'd want for your special event.
Photo booth prices and types can really vary in the Austin, Texas & central Texas area. What's included with your photo booth really varies, too. Other factors that can vary are:
The photo quality

Printer quality

Guest books

Booth types

Adding custom text or logos
Custom layout options
Printout options
Backdrop colors and styles
Green screen availability
Prop options
On-screen options (for the day of the event)
What to Expect With Our Photo Booths
Simply tell us the details of your event, and we'll give you a quote for what best meets your needs 
Book our photo booth and expect to see your family, friends, and event guests smiling, laughing, and having a great time
Your guests will keep all of the professional photos and be reminded of the fun, memorable experience they had at your wedding or event
You can also share your photos to Instagram, Facebook, Snapchat, etc., right from the booth!
Last, but not least, you'll get outstanding service! (We've been providing outstanding service since 2012 and have hundreds of happy clients).
Recent TX Wedding & Event Photos
Above are some fun, recent pictures from events! Yes, the one with the police is an actual event rental photo with real police officers.:) If you need an Austin photo booth, contact us, today! We'd love to show you why we're the best!
"Couples' Choice Awards" Winner: 2016 - 2021
No-charge set-up/break-down (2 hours before start time)
Free, fun props (digital props are now used, due to Covid)
Unlimited photography sessions

On-site professional photo printouts (2, 2X6 strips or 1, 4X6 photography quality print)

Photos print within seconds (choice of color or vintage, black & white photos)
Custom text/image/logo on each photo
On-site, professionally trained attendants
Social media posting
Animated GIF Videos
Video Recording
Draw & add your favorite emojis, right onto your photos
Choice of enclosed or open-air booth
Choice of backdrop color or custom, green screen (for open air booth)
"Best of Weddings" Award Winner: 2016 - 2021
Capturing Your Special Moments, One Photo at a Time!
If you're looking for a great, professional photo booth for your wedding, quinceanera, party, school dance, prom, or even corporate events, you've found it! Step up the fun and entertainment for your guests! 
Let us create a fun, interactive, memorable experience that will result in fabulous photos that are sure to live on well after your event! Whether you're entertaining 50 guests or 5,000 guests, we've got your covered!
"Thank you so much for the great pictures! We loved them all and everyone loved their photos, too! Thanks again for everything y'all did. We still think about how perfect everything went 🙂 you guys are the best!!"
Thank you,
Michelle C. (Bride)
Traditional Enclosed Booth
We offer three types of photo booth styles. The traditional, enclosed style, (above) is the style you've seen at theaters and other places, and is great for any event. It's smaller, and more private. 
This style fits 2-4 people at a time. This will work well for weddings, quinceaneras, corporate events, and parties that have fewer than 100 people. You can certainly rent this for larger events, but you'll need to add more time, to allow enough time for all your guests to take pictures.
We also have the open air style, (above) with a backdrop. Our open air style is perfect for any event! This style allows more guests to be in the photos! Open air booths usually fit up to 10-12 people in one picture. Most weddings and events rent this style, to allow more guests to take pictures, which is always fun! We've even seen 20 people crowd in for one great picture! Most of the pictures from weddings and events, above, used this style.
Regardless of which style you choose, you and your guests are sure to enjoy the experience at your wedding or event!
If you need a great, open air style booth, but you don't need on-site printing, we've got you covered! We'll bring our professional, kiosk-style, social media booth. We'll provide:
Fun props (digital props are now being used, due to Covid)
Add your hashtag, custom text or logo
Free set up and break-down  

Guests can take

unlimited

pictures

Your guests can post their photos on their social media, send the pictures to their email, or even text photos to themselves, at the event, using this innovative technology! 
You'll get all of this, plus outstanding service, for a great price! This is more affordable than our on-site printing option, but please note: affordable does not mean cheap photo booth rental by any means! Our service is professional and awesome!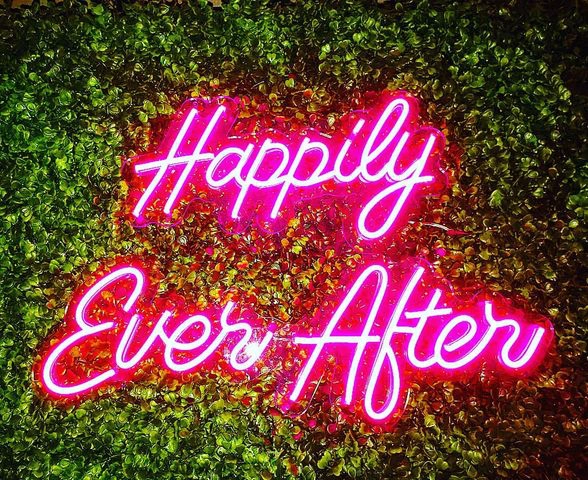 We have a variety of backdrop colors and styles, including the popular boxwood backdrops! Boxwood/greenery backdrops look great and add a natural element to your event. Add our neon signs to the boxwood backdrop. These are perfect for your wedding day!
If you're having a special themed party and want that theme as your background, we can easily do this with a green screen! Ask us for more info about our green screen backdrop rentals, guest books, and other services that we offer.
How Much do Our Photo Booth Rentals Cost?
We offer all-Inclusive Austin photo booth rentals, or you can customize your own package. Our photobooth prices range from $650 – $1295, depending on your event details and needs. (Average prices for vendors in our area are around $1000).
Don't need on-site printing? We offer an even better deal for our social media photo booth! Our social media booths are great and our package prices are very competitive!
While most of our rentals are in Austin, Texas, we also serve the San Antonio, or central Texas area! We require a 3-hour minimum booking time for all events. **A travel fee may apply to events outside of Travis County.
Award-Winning Photo Booths
Ready to rent a photo booth for your wedding day, party, or event? Simply click, below, to get started! 
Austin's Favorite Photo Booths!
Every week, we provide our services for weddings, quinceaneras, parties, corporate events, & more. We have hundreds of happy clients. No event is too big or too small. 
Email us, today, and let's discuss your event or wedding day details! Looking for more services in Austin, San Antonio, or central Texas? We also offer:
We offer all of the above, and more. Contact us and let's discuss your details!