Neon Wedding Signs - Austin, TX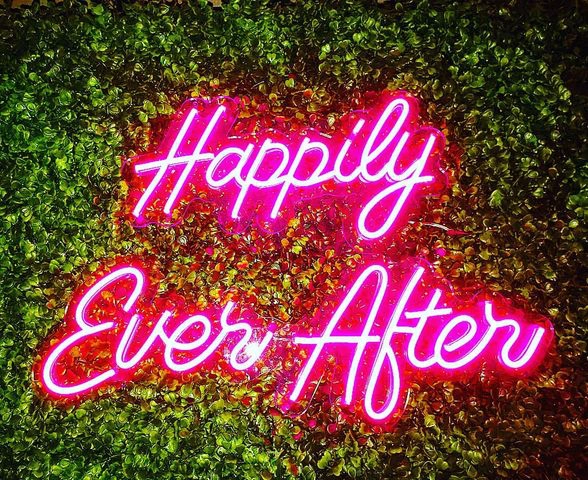 Looking for great neon wedding signs to rent for your special day? We've got you taken care of. We stay on top of trends! We offer the best decorations in the Austin and central Texas area!
Our neon sign rental & boxwood backdrop rental are a great way to lighten up special events at any reception space! These are always a huge hit for a bachelorette party or cocktail hour at any formal event.
We've got all of the popular wedding neon sign rentals that you're looking for, for your big day! We have the perfect neon sign for rent, including:
"Better Together," (most popular sign for weddings)
"Happily Ever After" (pink neon sign rental – pictured above)
"Love" (we can add a red or pink neon heart to your rental, if you'd like us to)
Til death neon sign (Til Death Do Us Party – this works for weddings, parties, corporate events, etc)
"Good Vibes"
"Happy Birthday"
"Oh Baby"
"Love Wins"
Please note: our neon signs are only available for rental if they're booked with a backdrop or with another service. We do not rent the signs alone, without any other rental or services.
If you want to create your own custom neon sign, we can have a custom sign, or custom design, made for that personal touch for your reception, at an affordable price! Many people create a sign with their last name. This is a fabulous option and will look amazing in your photos!
We can also try to match your theme or color scheme. The best part: you can keep your neon light sign after the wedding to hang in your home! (Your neon sign includes a 1-year warranty).
These also make the perfect wedding gifts at a surprisingly affordable price. If you want to order a sign for the new couple, imagine their face when you bring a new sign with their new name to their event! They'll absolutely love it! 
Where to Hang Your Custom Sign
If you are not sure where to hang your sign, we have a few suggestions. You can hang up your neon signage in the ceremony area, with your ceremony backdrop. Additionally, you can hang the sign anywhere in the venue where you want a beautiful focal point. We recommend near the dance floor, behind the head table, behind the cake table, or even as bar decor!
There is no better way to decorate your:
Add our boxwood backdrop for the perfect addition to your neon rental. The boxwood backdrop with your neon name sign will be the perfect backdrop for any photobooth. We recommend indoor use, but the neon rental and boxwood can be used outdoors, too.
Ready to rent your wedding neon sign? Great, contact us, today, for a free price quote to rent our neon signs, custom name signs neon rental, etc. We offer the best neon rental price in the Austin/central Texas area!
For more info on our other backdrops for rent, and other entertainment options/services, visit our Austin photo booth rental page, Austin wedding DJ page, and Austin marquee letter rentals page.